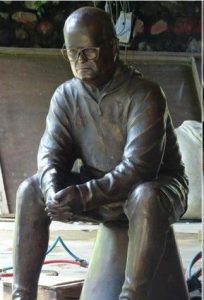 As some of you may know, one of owners of Trade Furniture, Tony Clark, has been working with artists in Asia to create a Lifesize replica of the famous Leeds United Football Club manager, Marcelo Biesla. Funded by himself and his brother, Craig Clark, this project has been a personal and emotional project for all involved.
Tony, a father of 1, has been supporter of LUFC for many years and has helped him overcome many mental health issues in his life. Due to this, for 6 months he has been editing, designing and liaising with artists to create the fantastic 75kg creation to overcome mental health issues as a result of surviving the 2002 Bali bombings.
The 3D sculpture has required many alterations and differences, such as an earlier version being made too skinny – which biesla will have probably liked.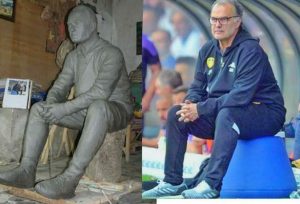 Crafted from solid brass, Tony was originally going to sell the sculpture to the highest bidder to cover costs, with any extra profit being donated to charity. However, throughout the coronavirus outbreak, he has decided to donate it to Leeds United free of charge.
On top of this, Tony is raising money to donate to the mental health charity, MIND. This charity offers a lot of supporting and helping those affected with mental health issues .
In 2002, Tony was a witness to the horrific Bali Bombings, where 202 people died and many more injured. Suffering from this traumatic experience even 18 years on, Tony has worked on himself to live a peaceful and giving life. Living through such an event can play a serious turbulence on ones mental health, which is why Tony is grateful to have such a supportive partner as Emma, who is currently expecting the couple's second child.
After suffering years of trauma at the hands of the bali bombings, Tony says it is an event that will never leave his mind. His mental illness struggles have been helped and stabilised through his strong network of family and friends and his driving passion for football. Tony is a strong and commited man who has overcome many mental health challanges over the years. It is something that will nevfer quite leave him, which is why he has chosen to represent MIND to help others affected by similar issues.
Sitting 6 rows behind the leeds dugout, he has kept a close eye on Biesla and so was able to create an accurate representation of him with the help of the artists.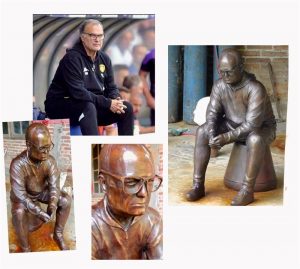 In regards to the Leeds United club, he stated that it is "A place that has given me hope, desire, drive, passion and a sanctuary for me to go to throughout the last thirteen years since I really started to follow football and follow my home town club"
Tonys idea started simply from attending games, and wanting to donate to a charity that has helped him through so much. His selfless act is in the motive to bring us together as a community, and to express our inner thoughts and feelings.
Following on from the basis of the charity Mind, Tony wants us all "to just make small steps and be positive, to not look at others as greater or better people, to understand we all come and leave the same way, not to run away and bury things, but to talk about things instead and be open with a friend, family or a stranger. To not be scared and try to keep social media under control"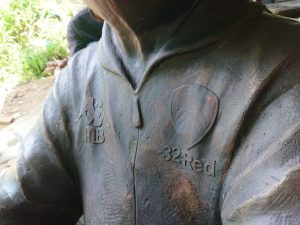 His personal journey is an amazing story that shows progression, strength and selflessness. The 75kg brass sculpture will be a fantastic rendition of all these qualities that not only Tony, but that many of us have suffered throughout hardships and struggles.
This statue is aimed to raise between £20,000 and £30,000 for charity, and will be used towards providing outstanding services and support. To donate £10 and be in with a chance of winning this fantastic statue, click the button below.
We thank you for any donation which you can spare at this time, and ask you to keep a look out for where this magnificent sculpture may sit.