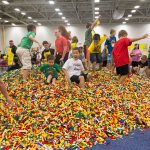 Did anyone hear the news about LEGO today announcing their latest edition to their Creator Expert Modular Building range which is a complete assembly square, celebrating 10 years since the launch of the range.
The set is to include a 3 level assembly square with shops including a bakery, music store and photo studio among other business environments with 8 mini-figures with the entire set consisting of 4,002 pieces.
Now this does come at a price, that price being £169.95 – the same price it would be for a piece of our Indian Wood Furniture which means that this is more for serious Lego enthusiasts.
This does not mean that we should not give credit where credit is due as Lego is still one of the most beloved toy ranges in the world with many claiming it to be the best 'toy' ever created.
Even in today's world where technology is somewhat making creative activities less prominent you will still see kids up at the Jali Dining Set creating their very own Lego masterpieces from a tub that they got for their birthday or for Christmas.
The appeal of Lego surely comes from that very concept, here is a blank canvas of assorted pieces laid out on the Mango Coffee Table and let's see what you can create – this is the appeal of traditional Lego bricks the feeling of seeing something develop before your very eyes and ending up with a creation that is somewhat original and of our very own design.
That being said the Lego brand has expanded over the years to movies and video games further extending the pop culture legacy of the little yellow mini-figures as well as themed sets which somewhat nerf the creative aspect of the brand in favour of ease of use which to me personally misses the point.
Yet despite all this Lego was and still remains the peak of creative entertainment with generation after generation remembering sitting on their Solid Wood Bed playing with their new creation they literally made from a handful of bricks.