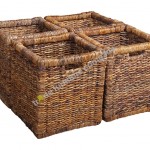 Despite we here supplying any number of elaborate Indian Furniture pieces such as the Dakota Wine Rack and Teak Root Coffee Table to name a couple of examples.
However we feel that our blogs focus too much on the more extravagant items which is why this week we have decided to focus this blog on our Rattan Baskets collection.
You see along with our Solid Indian Wood Furniture collection we also supply a vast range of Rattan based furniture most prominent of which are our Rattan Dining Chairs. However in the Rattan Furniture range there is an unsung hero that often gets overlooked but is no less an essential item is the collection of Rattan Baskets.
So what makes Rattan Baskets an item that deserves to have its contribution recognised – well the items versatility is one of the major factors to consider with Rattan Baskets.
First of all the items look great in their own right, after all the natural banana weave and colour means there unmistakable charm will shine through and certainly add a dash of personality to any  room they are in. Of course this is only focusing on the stylistic element, on a practical side these charming units certainly pull their weight as each basket is not only durable but can store a wide variety of items from DVD's to socks, magazines and other accessories.
However the second element that makes Rattan Baskets such a must have for the home is how they complement our Indian Wood furniture. Take a look at our Dakota Tall Shelves as an example particularity the dark finish, as you can see the baskets offer a fantastic contrast to the dark finish of the wood which not only gives this unit an added element of style but also substance.
So don't be a basket case and think these items are mere afterthoughts of the Rattan Furniture collection as who knows when you will need that perfect balance of style and substance.