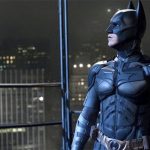 Well good morning Trade Furniture blog readers, today while doing my morning research goings on in the world I discovered something that would make any film buff giddy at the heels.
You see I found out that a whole lot of film memorabilia is going up for sale and the list of items it truly a dream come true.
The headliner of the auction is of course the Bat suit that Christian Bale wore in the Dark Knight Rises which is on sale which will be going for £100,000.
Now of course you would have to be completely crazy to purchase something like this, for one you could probably buy our entire warehouse of full of Indian Wood Furniture which would probably be a lot more practical that having a piece of movie memorabilia. Second there is the inevitable day that you will end up sitting at your work desk dressed as Batman.
Of course anyone sitting with their laptop next to their Madison Coffee Table should seriously take a look at this because there is more than just the Batman childhood fantasy on offer here.
Of course there is the Bat Pod which if you could drive it on the road would be amazing but would surely have a price tag to match let alone the insurance. Of course there are other pieces of childhood nostalgia bait on offer such as star wars memorabilia that includes an original storm trooper helmet as well as a helmet from a TIE pilot, both from A New Hope, Arnold Schwarzenegger's costume from Terminator 2 and Spielberg's clap board from jaws.
Of course now I'm going to nearly make you spill your coffee and make you rush to your Mango Sideboard for a cloth to wipe it up.
The final thing that will be on auction is a suit from the classic Ninja Turtles movie which is on sale for £6,000 and would certainly be a hot seller, more than our Dakota TV Units.
So happy bidding those lucky enough to afford these priceless pieces of memorabilia because you are all Bat Suit Crazy!