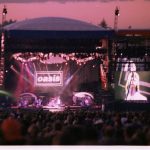 Well Trade Furniture Blog readers today is a very special anniversary in the hearts of any music fan of the 90's or the Britpop movement.
Yes today 20 years ago on August 10th 1996 Oasis played live at Knebworth and doesn't time sure fly, after all who would have thought that a 5 year old boy listening to his favourite band live on the radio would be writing about this very gig 20 years later at an Indian Wood desk while feeling very old while doing it.
So what is the big deal some of you will ask – You see by 1996 Oasis had achieved mass popularity worldwide and in Britain especially were at Beatle levels of popularity thanks to their 2 critically acclaimed albums 'Definitely Maybe and (What's The Story) Morning Glory'.
So it seemed only right that such an achievement should have a great show to go along with it and what we ended up with was the crowning moment of the 90's Britpop movement.
Now all of you who love your statistics go grab your pen and paper out of the Madison Sideboard as here's some statistics for you, 2.6 million people applied for tickets to which a lucky 250,000 were given the opportunity to attend the 2 night gig which at the time was one of the biggest concerts in music history and certainly one of the biggest if not the biggest of the decade.
But it's so much more than just the statistics it's what was represented here it was perhaps the cap on what was an already amazing decade by this point.
I mean the support acts alone that included manic street preachers and prodigy and yes I did say they were the support acts. Then there was the big names who attended that included a TFI Friday fresh Chris Evans (anyone remember watching that anarchy on their Mango TV Unit), Kate Moss and Mick Hucknall who took Martine McCution on what has to be the best date ever – it can't get more 90's than that.
So we had the typically 90's celebrities in attendance but it also represented the joy of the 90's where everything in Britain at least was going swimmingly and for the first time in many decades the country was able to cut lose and not wish that we were America for once.
And finally there is the musical importance of Knebworth 96. As I mentioned earlier this was the peak of Britpop being its crowning achievement and celebration of the optimism and positivity of British music at the time before 'girl power' descended on the world.
It also represented the peak of Oasis as in a mere 3 years they had claimed the honour of most popular band in the country, released 2 killer albums and had played a landmark gig to cap it all off – of course it was never going to get and never did get bigger than this gig, as I'm sure music buffs will tell you as like me they are probably writing a blog or article reflecting on that incredible 2 nights in  1996 with a cup of coffee on their Cuba Coffee Table as they type away.
So today why not crank up Wonderwall or Some Might say on your record player conveniently placed on the Sheesham Sideboard and remember the crowning moment of 90's British music - The 60's had Woodstock, the 80's had Live Aid and my generation had Oasis Live at Knebworth 1996.