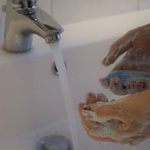 Here at Trade Furniture, we pride ourselves on the ability to adapt and overcome obstacles. Because of this, we are willingly equipped and prepared for the effects of the COVID-19 virus which has quickly rose to attention.
In light of this, we know that you, our customers, will have questions and queries about our means and practices. Although our health and safety precautions have always followed a rigid procedure, we have adjusted to our new surroundings and as always stride to make your shopping experience seamless.
Do we as a company know the scientific attributes of the COVID-19? No, of course not. As normal human beings we aren't even sure what's right or wrong in terms of protecting oneself. However, we do know that there are lengths we can go to all to ensure the preservation of our most vulnerable. Furthermore, as a caring business, our number one priority is the safeguarding of ourselves and others, which is why we have put the below precautions into place.
DRIVERS
To begin with, in regards to recent governments guideline, our friendly drivers will always remain a full 2 metres away from your and your family to prevent bacteria passing through physical touch. Furthermore, if you or your family are isolating but would still like your beautiful furniture, we will happily leave your boxes in a doorway, porch or SafePlace; and although our drivers would love a cup of tea, our main priority is ensuring everyone is safe and sound.
STOCK
In addition, our large warehouse has the capability to store lots of stock – so you can put your furniture delivery on hold until you are ready (free of charge of course!) Throughout such a scary time as this, it is comforting to know your order is secured and labelled just for you, and have protected companies you can rely on.
At Trade Furniture Company, our staff are always willing to help not only you but each other and so we ourselves and looking out for ways to heighten our security and hygiene. As a company, we have prepared in advance in case of possible disasters – so you can safely relax in the knowledge that we aren't going anywhere!
PURCHASING
On another note, if you have already purchased your order, this is further secured under section 75 of the "consumer credit act" for purchased above £100 and below £30,000. Also, although not set in stone, the advice from the government is to not deal in cash in current times, however if card is not viable for you, then cash on delivery is STILL an option to those who need it.
There is also the option to pay a 20% deposit on furniture products whether that is to secure stock, or if you would rather pay at a later date. We want to give you the most freedom possible throughout this stressful time, and are always here for assistance.
We have always been honest with our customers, as we are proud of our loyalty ad commitment. Having been in this trade for over 15 years, we are established. Because of this, we do everything possible to guarantee you will get your order. We promise to work effortlessly until we are forced to close, but until then we will continue providing great – but safe – service.
FURNITURE CARE
Of course, furniture luckily does not carry this virus. However, there is no guarantee that it cannot at least hoard the bacteria. Because of this, we advise our customers to lightly clean their furniture, but only at least 15 minutes after our determined drivers have left.
As usual, our products should be a premium quality to thrive with luxury, however if they are not then our normal procedure will occur. Check our Returns Policy.
EMERGENCY.
In the event of a national emergency, such as instant lockdown, your drivers will contact you straight away and safely store your furniture orders in our warehouse. We will be with you throughout every step and will never cease to contact you with updated regarding these issues.
In addition to this, if any of our employees are shown to have symptoms, we will take the decision to self-isolate for 14 days for that extra step of security so you can rely on our drivers being safe from the virus.
CONCLUSION
In times like this, our most important quality is community. Because of this, we must work together to help us overcome this dark period and come out of it stronger. By taking caution and staying inside where we can, we can protect not only ourselves but everyone around this.  With love in our hearts and a caring mindset, we can continue sharing laughter and happiness between us. So we ask you to stay safe and never be afraid to contact us regarding worries or issues you may have regarding your furniture.