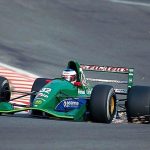 Well Indian Wood Furniture blog readers todays blog will be keeping with the recent motorsport theme as today we look back on a moment that would in essence change the sport forever – the Formula 1 debut of Michael Schumacher.
Now if you're like me and grew up watching f1 in the late 90's and early 2000's then you probably remember being sat in front of a Mango TV Unit like myself seeing this incredible driver absolutely crushing all who stood in his way (which admittedly could get a bit annoying).
However what not a lot of people will know how he got his big break in F1 and the legacy that it would lead to, now for those of you like me who have an entire Solid Wood Bookcase with F1 books will already know about his extraordinary debut, however for those who don't well here's what happened.
In the middle of the 1991 season Jordan F1 driver Bertrand Gachot ended up getting jailed after a confrontation with a London taxi driver this meant that team owner Eddie Jordan was without a second driver for the upcoming Belgian grand prix.
Schumacher by this point was making quite the reputation for himself in feeder series such as Formula 3 and being competitive in the World Sportscar Championship for the Sauber Mercedes Team.
So it was soon announced that Schumacher would be taking the seat in the Jordan car for the Belgian Grand Prix being held at the daunting Spa-Francorchamps circuit regarded as one of the toughest tests on the formula 1 calendar, even in its video game form I struggle to get round sat in front of my Jali TV Unit, so imagine making your Formula 1 debut here.
However Schumacher performed the unthinkable, in his first race he managed to qualify the Jordan in 7th position ahead of a lot of well-established and experienced drivers at the time, including his team mate who started 11th.
Of course those who know their F1 history will know that the race itself was not the best as Schumacher was only able to complete barley half a lap as the car gave out on him, however he had made his mark.
Sadly F1 politics tarnished such a debut as for the next race he was immediately signed up by the Benneton team cruelly and unfairly robbing Jordan F1 of their new star. However considering that 1 year later at the same track Schumacher took his first of 91 victories few would argue that this was a bad move career wise especially considering what was to come.
So next time you're watching a review or old race featuring the 7 time world champion just remember as you reach to the Madison Coffee Table for a drink, that young driver in a little green Jordan who set the F1 world alight – without even completing one lap of his first race.
And I think we all wish Michael Schumacher all the best as he continues his brave recovery.