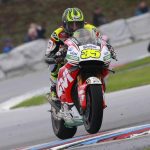 Well did everyone catch the Moto GP race this weekend – actually that's a bit of a trick question as motorcycle racing is as nice as a Reclaimed Indian Coffee Table.
However for those that did watch it we witnessed history in the making as Cal Crutchlow crossed the line to win the Czech Grand Prix and in doing do taking the first win for a British rider in the premier class of motorcycle racing since Barry Shene back in 1981.
But it's not just the historical significance, more it's the race in which this took place in, if like me you were watching the race on a Madison TV Unit you knew something special was happening in what will no doubt go down as the race of the year.
On a track that was sapping wet the field got away and somehow the two factory Yamahas went backwards quicker than how we sell Dakota Furniture soon finding themselves 12th and 16th with no signs of progress.
This lead to the two factory Ducati's taking the lead in difficult conditions ahead of Marc Marquez which soon became a Ducati 1,2,3 as Scott Reading snatched third place away and Hector Barbara on another private Ducati closing in fast.
So this was already getting the anoraks twitching heading for their Madison Bookcase to check statistics and records however soon things came into play as the Yamaha of Rossi began closing in and picking back up places, which was no doubt helped by tire problems for the front runners.
However behind all of this chaos Crutchlow was picking his way through the field like they were standing still rising all the way from 10th to lead with 7 laps to go, a lead he would not relinquish and in doing so took the victory – the first for a brit in 35 years in premier class motorcycle racing as well as the first for LCR Honda.
Of course Cal being call made a few fans face palm, including myself so much that I at least nearly spilt my coffee over my Mango Coffee Table, when he proclaimed the other riders as 'wimps' – showing Cal still needs some work on his PR skills.
However despite this, Cal Crutchlow has made history and adds another chapter to what has been a magnificent season of Moto Gp – are you listening F1!