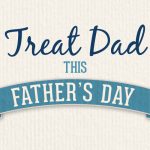 Good afternoon everyone! I hope you are enjoying the day, and looking forward to Father's Day on the 16th of June.
Fathers are so hard to get gifts for! They never tell us what they want, there are no hints given and we spend the entire time panicking if it's the best possible gift. After all that they've done for us they deserve an island –but we can't even find the perfect mug.
However, this year, I have devised a plan that is fool proof to ensure the ultimate gift for our Fathers. I gave my dad a piece of paper and a ballpoint pen, whilst also showing him the Father Day Collection from Trade Furniture. I told him to look through the stunning pieces and choose his OWN gift, that way I can't go wrong!
Firstly he chose the Recycled Retro Wooden Fish – a beautiful hand carved fish chest perfect for his cologne collection. I knew when I saw his face that he had fallen in love even though he tried to hide it.
He couldn't contain his excitement, however, for his choice of Greyton Painted Oak Lamp Table, with a beautiful classic finish perfect for his bedroom, a fantastic place to put his morning cup of tea. You could almost smell the sweet tea leaves wafting in and out of the room as he showed me the table, gleaming with pride from ear to ear.
My Fathers brow raised and lowered, his eyes flicking back and forth unable to decide between the multitudes of stunning units laid before him. His long finger curled upwards out of his shirt, and pointed towards a sophisticated Cube Honey 2 Hole Storage Cube. This was the finishing touch for him, a place to showcase his most valuable trophies from when he was younger. He used to be quite the dancer!
With his list finished I ran upstairs and BANG! The orders placed, and he'll wake up next Sunday to a beautiful new set of Solid Wood Furniture.
Well that's all for today readers. If you're unsure about what to get for your Father, why not take a look at our hand-picked Father's Day Collection and we hope you enjoy your day. I think this time I've finally got him a gift worth buying.