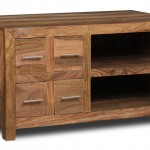 Being a twin must be a real pain sometimes especially if you're an identical twin – constantly being confused for your sibling can be irritating and somewhat awkward.
Here at Trade Furniture we have a curious case of twins that may look alike, but that have a subtle difference that distinguishes them apart from one another.
We are talking about our Cube Furniture and its twin Cuba Furniture. First of all let's look at the similarities between these two ranges. Something you will notice is that these items are all available in 3 different finishes the light, honey and natural finishes. The second similarity is that both of these ranges have an identical product line-up be it coffee tables, sideboards, or even beds and drawers. The final similarity is that both ranges are made from the high quality Indian Sheesham Wood that has become something of a hidden gem in our collection.
So there are the similarities – so like real life twins it's easy to get confused, so how do you tell apart these ranges. Well like real life identical twins who will make subtle changes to their appearance to distinguish themselves, you will notice with closer examination they are very much different and represent different furniture and home design philosophies.
First let's look at the Cube range. You will notice that certain items such as the Cube Sideboard come fitted with handles, these are brushed steel and are fitted to units where appropriate. This give the range a modernist approach blending traditional Indian wood furniture with crisp and sleek modern design – an effect that we are sure you will appreciate.
Then take a look at the Cuba range – same products, same wood but rather than brushed steel handles this range has matching wooden handles, giving the unit a traditional look and feel to items such as the Cuba TV Unit.
So despite their similarities these ranges are much more than identical twins, both may share similarities but both represent their own individual style.