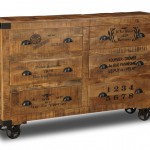 Have you ever looked at the furniture in your house and thought 'I'm bored'? Ever thought that you'd like something a bit more substantial with a bit of power to it? Something with wood and metal, something that you can put in bedrooms, living rooms, dining rooms and all over the house? Something industrial? Well we've got just that for you here at Trade Furniture. We have a whole range of Industrial furniture that features metal and wooden additions. Things like the Industrial Large Iron Crank Table which is sure to prove to be useful due to its function and ability to move up and down using the crank. The base is made from iron so it makes it that little bit heavier and thus really delivering an industrial feeling. You wouldn't find light items in an industrial environment, would you? That particular crank table is available in a smaller version too. The Industrial Small Iron Crank Table is smaller than but just as powerful as the larger table.
So that's an example of the living room Industrial range. How about something for the bedroom? How about a chest of drawers? Something with metal handles? Wheels on the bottom? Markings that make it look even more industrial? We've got it covered. Our Industrial 6 Drawer Chest is the perfect piece for a bedroom where storage is needed. You can use it to store things like clothing, accessories, socks or even technology like computer parts, etc. The wheels on the bottoms give it that really industrial feeling and make it much easier to move around than you would think; it's quite heavy and the wheels make all the difference.
So have a look through our vast range of Industrial furniture and see if you can find something that is for you.