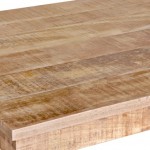 We have been introducing quite a lot of new ranges here at Trade Furniture, most of which have been of our Retro inspired items.
These have quickly become a popular new addition to our range with customers highlighting how they really reflect the era well. Another point that customers bring up is the distinct look of the range in particular the light items of Rustic and Retro.
Now looking at the Rustic Sideboard for instance the light finish seems similar to all of the other Light Mango Furniture made items that we sell. However when you look closely you see a distinct difference between the 2 designs.
You see we consider this finish not to be the traditional 'Light' finish but a Rough Sawn Finish. Rough Sawn is where the wood is cut with a circular saw blade and rather than be 'planned' and smoothed out the wood is left with the distinct cut.
This gives items such as the Rustic Coffee Table a very distinct 'rustic' look and feel – almost in a raw and unhinged way as though it was cut from a tree outside and put together in a carpenters shack.
Some may find this to be a turn off when it comes to interior design, after all polished perfection is what most would assume the way to go is when it comes to furniture.
However Rustic Furniture adds something else to the mix – rather than the clean cut and clinical furniture that is sometimes referred to as real wood furniture, what you get here is literally the real deal.
Because so little work has been done to the wood and the cut is very much a onetime deal, it makes the wood feel very natural and warm as wood should be. From the sights of seeing the items glisten in the light to their touch and feeling that rough cut this is a range that is bound to become a stylistic feature of many homes to come.