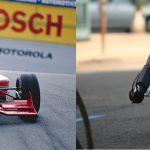 Well everyone the Paralympics are fully underway and admittedly this blog has been a little late coming. You see it's very hard to talk about the Paralympics because it is such an inspirational event with people basically show what the human mind and spirit can accomplish.
However over the weekend sitting in front of the Mango Wood TV Stand watching the hand cycling I witnessed something that capped off an incredible story of determination and perseverance that makes you really think what can be done with the right amount of dedication.
Yes over the weekend Alex Zanardi took his second gold at the Rio 2016 Olympics wining the event 15 years on from the event that would change his life forever.
So reach to your Indian Coffee Table and take a sip of tea as here is some background on this man's incredible story.
Alex Zanardi was at one time an accomplished racing driver with stints in Formula 1 (I remember watching his races in 1999 in front of my Madison TV Unit) with his peak coming in the American CART series taking 2 titles in 1997 and 1998.
In 2001 Zanardi was re-establishing himself in the CART circuit and after a season of relative non competitiveness yet at American Memorial round at Lautsitz, Zanardi was having the best race of his comeback and was leading with 13 laps to go when he came in for a pit stop.
However after emerging from the pit lane he lost control of his car careening into the track where he was struck by fellow racer Alex Tagliani at full speed ripping the front of his car off claiming both of his legs in the process, I remember reading the news on my Solid Wood desk wondering how on earth he was going to survive such a horrendous crash.
One thing was certain through – his racing career seemed to be over, however Zanardi's never say die attitude to life would not let him give up and he began an ambitious recovery from his injuries developing a custom set of prosthetic legs he eventually got behind the wheel of a racing car in 2003 lapping 13 laps around the track he lost his legs at the amazing thing is had he have been racing that weekend he would have qualified 5th for the start.
This lead to a full on racing comeback in touring car racing using a BMW with modified with hand controls eventually taking 4 race victories in the World Touring Car Championship.
In addition to this he competed in competitive hand cycling eventually representing Italy in the 2012 Paralympics wining 2 gold medals and adding a third over the weekend at Rio. It's hard not to be in awe of this man's determination and drive to live his life to the fullest after what would have seemed like the end of it all 15 years ago adapting to his situation and getting the most out of his limitations showing that it's an athletes mental approach rather than their outright physical gifts that is what pushes them to greatness.
Congratulations Alex Zanardi you are an inspiration to so many all over the world.