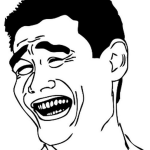 Welcome back everybody to the Trade Furniture blog, our extended weekend is over and now its back to all the joys of Solid Wood Furniture here in the office.
Of course in our 4 days off we passed through both Easter and April fool's day. So while digging into those delicious chocolate eggs on your Mango Coffee Table, were guessing your Facebook notifications will have been going crazy with constant April Fools jokes.
Honestly we wouldn't be surprised if you fell for a few either, given that a lot of the posts that I saw online were so straight faced that on any other day they would have sent the internet into ablaze (of course what doesn't these days?).
Thankfully our range of Natural Wood Furniture is certainly no fool, with a vast and expanding collection based on what you find to your liking.
For example we have recently expanded 2 of our wood ranges to incorporate more designs.
The first of these is the Jali Furniture range.
In the next few weeks we will be launching 4 brand new Jali pieces, with a theme of home storage. Each of these new pieces will feature a stunning Indian Sheesham wood furniture frame, with cast iron detailing infused into each design.
This detailing are all inspired by traditional Indian Jali design, giving each piece a unique international look and feel.
Alongside these new additions we also have the expanding Mango Furniture family with the Retro Mango collection.
This range takes our popular designs including our Mango Coffee Tables and Mango Bookcases and infuses them with a touch of late 20th century design. All of this leads to a stunning collection which blends retro themes that meets the needs of the modern home.
All pieces in this collection are available in both a light and a striking dark wood finish.
Thankfully today you're not falling for any fools, as these pieces are available to browse at your leisure here at tradefurniturecompamny.co.uk.