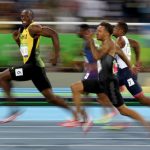 Well everyone it's happened, the 100m sprint is over the medals have been won and everyone got the result they wanted.
You see it doesn't matter what country you're from, what biases to certain athletes you may have when your sat in front of your Mango TV Unit and the 100m men's final comes on there is only one name that comes to mind – Usain Bolt.
Yes the 29 year old sprinter delivered on what is the Olympics biggest stage for a historic 3rd consecutive time becoming the first athlete to win the event 3 times on the trot which means he is likely to go down in history as the greatest sprinter in Olympic history.
However it's much more than historical records that journalists and enthusiasts will read in books placed neatly in their solid wood bookcase.
No you see Bolt announced that the Rio Olympics will be his last quoting that "I have done everything, and have proven myself". Despite this sad news that the Olympics biggest draw has decided to hang up his sneakers it's hard to argue with the man's decision.
You see a lot of athletes don't know when to stop and continue on well past their prime eventually coming under increasing pressure from younger hungrier athletes, however Bolt is calling time on a decorated career while he is still on top of the sprinting world and sealing his legacy.
And what a legacy is has been as since winning his 7th gold metal last night Bolt has in essence gone undefeated in individual Olympic competition since 2008 whilst also taking team relay gold medals in the process.
However I feel bolts biggest legacy will be what he did for the Olympics and sprinting in general, walking out on the track back in 2008 with a swagger and stage presence that had not been seen in the Olympic world in a long time Bolts infectious charisma and showmanship made him the star attraction injecting the Olympics with a burst of energy it sorely needed and reinvigorating an event that had become somewhat vanilla.
However it's more than that as Bolt has achieved something that few athletes ever achieve – transcending their very own sport. For example if you're sitting around your Dakota Coffee Table and the friend you have over mentions Michael Jordan you think basketball, someone mentions Muhamad Ali its boxing, and if you mention Usain Bolt you instantly think sprinting.
And with these final forays onto the track the world is embracing Bolt and his achievements from the 2008 Beijing games and being completely blown away, to 2012 where it was all about who can beat Bolt. However in 2016 as the curtain is coming to a close we celebrate an athlete who's like we will probably never see again and whose infectious showmanship and flair is destined to be duplicated but never replicated.
So with 2 more races to go Bolt intends to put the final touches to his legacy – as this is an athlete who will not bow out gently.