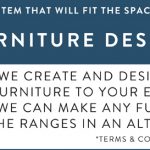 Good afternoon fellow readers, Friday has come knocking again. Ah, what a great feeling Weekend here we all come! However, that's not the only fantastic feeling happening at the moment. At Trade Furniture Company we have released our 'brand new', excuse the pun… BESPOKE SERVICE!
That's right; you can now have your furniture design your way. Are you wishing to have one of our existing products in a larger dimension? No problem, we can do it. How about merging two of our units together to make the perfect piece? No problem, we can also do that. Or what about creating a unique never made before unit? We can also do that too!
The possibilities are endless. With the new launch of our bespoke service the power of how the furniture feels and looks is all in your hands. Has there ever been a better way to have a go at becoming a designer as well as gaining the exact product you have been after made for you?
As you can all probably tell, the excitement in the office is extreme. We take pride in ensuring all of our customers can benefit from not only a happy customer service, but also gaining that specific product they have been trying to get their hands on.
So as the weekend is quickly arriving so is our new bespoke furniture service. If you are unsure about designing your furniture or aren't quite sure if you will get the end product you are after, our friendly and helpful staff will be on hand to put those concerns away!
Have a great weekend everybody and I shall see you all here tomorrow for the next daily blog.
P.S Go on over to our Bespoke page and check out some already freshly designed products created by you the customers.