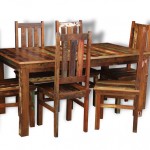 So Valentine's Day has now passed and we're getting out of the overly romantic mood. We hope you had a lovely day with that special someone. The romance is hopefully still there and we can try our best to make every day as special as Valentine's Day. As we all know the Pancake Day is coming up and it's always nice to be able to eat pancakes for tea. Something that we have that we're particularly fond of, that will make you February that extra bit special is the Dakota 220cm Dining Table and 8 Dakota Chairs. This remarkable dining set makes a great addition to any dining room and means you can have up to 8 people round to enjoy your pancakes with you.
Some of our other dining room furniture that is quite popular is the Dakota 180cm Dining Table and 6 Rollback Chairs which is a magnificent feat for craftsmanship, modern appearance, comfort and usefulness. It has 6 Dakota chairs that are made from the same material and are in the same colour as the table, so the worry of finding chairs that will match is now moot.
Another of our lovely dining sets is from our Reclaimed Range and is not as appreciated as it deserves to be. The Reclaimed Indian 160cm Dining Table & 6 Reclaimed Dining Chairs is a beautiful addition to any dining room. It is structured from Reclaimed Sheesham Wood and has quite the selection of colours. The dining table and the rattan dining chairs are a stream of green, brown, blue, yellow and sometimes there is a hint of pink to the wood.
If you have any questions or queries that you can't find an answer to on our website then please give us a call and our dedicated customer service team will do their best to find the right furniture for you.