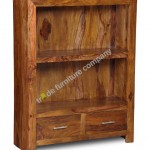 At Trade Furniture we have a great variety of all kinds of furniture, how about checking out our Sheesham bookcases? These are attractive items that would look fantastic in a living room or study perhaps.
The quality of the wood used for the bookcases are of the highest quality Indian Rosewood and are impeccably handmade. The clear lacquered finish gives the wood a quality smooth feel as well as making the product extremely damage resistant. The bookcase itself looks great and is a tall, sleek item that not only looks great but also is very practical and useful. You can buy baskets with some of our bookcases, which make the item look unique and a little different from your average Solid Wood Bookcase.
The addition of the Rattan Baskets gives the Solid Wood Bookcase an interesting look, contemporary and unique. The rattan baskets as part of the bookcase look classy and fit very well in the bookcase itself. The rattan fabric we use here at Trade Furniture is made from banana leaf fibres that are very damage resistant so you won't need to worry about the fabric breaking apart easily.
The wood used for the bookcase is a textured dark sheesham wood and we think it looks really excellent for this item. The dark wood has a really classic and rich dark look that really looks great in any living space.
Making your payment online is simple and secure. Once your order is placed, depending on stock delivery will usually take a maximum of fifteen days. Our delivery team will call you two days in advance to your actual delivery date to arrange a time slot suitable for you. All items come fully assembled on delivery. If you have any further queries or questions about any of our Sheesham furniture then feel free to give our office a call or check out the FAQ's provided on the site.