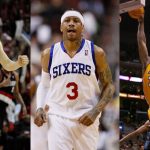 Well nobody probably paid any attention to this what with the usual sporting subjects dominating the headlines however over the weekend the Naismith Memorial Basketball Hall of Fame had its annual induction of the best and most impactful athletes who have contributed to the sport of basketball.
Now if you're not like me and diligently sit at your Jali TV Unit watching the NBA highlights then this will have gone unnoticed however for me it feels appropriate to blog about this topic as the 3 big names at this year's induction are some of the most influential athletes in my basketball life and in highlight the players that I grew up watching.
So let's begin with number 1 – Yao Ming.
Yao Ming was something of a revolution in the NBA being one of the first Chinese basketball players to have a successful career in the NBA he helped the league reaching the Chinese market. However for his induction to be based on this would be a mistake, Yao was an incredible force on the court with a great jump shot, excellent defensive capabilities and the ability the carry the Houston rockets to one of their most competitive eras in recent history all while being an unthinkable 7"6 inches tall, that's 2 solid wood Dakota Bookcases stacked on top of each other with room to spare. Despite a career that was sadly cut short by injury's Yao's impact on the game from both on and off the court warrants his induction.
Number 2 – Shaquille O'Neal
With no justification needed Shaquille O'Neal's induction is probably the biggest highlight for the hall since the superstar class of 2009 which featured the likes of a certain Michael Jordan. In what can only be described as the perfect hall of fame speech Shaq brought the laughs as well as the heart-warming memories and was sure to thank every single person who helped him on his journey to the hall remaining as humble as he was proud.
Of course it was not just the help, Shaq was probably the most dominate center the league has ever seen or probably ever will see, in a 21 year career the 7"1 athlete left audiences in awe while watching him on their Solid Wood TV Stand whether it be in his early Magic days or when he won 3 world titles with the LA Lakers to his time in Miami and beyond this is a player that combined raw strength with quickness that the league had never seen before leading to a career average of 23.7 points per game over his career I remember watching one of his playoff games in 2001 and the defence could not stop him no matter what they tried simply too strong and too fast for anyone. But beyond that Shaq is one of the leagues greatest entertainers remembering that despite his responsibilities as a professional athlete people show up to these games for a show and for 21 years that's exactly what they got.
And finally number 3 – Allen Iverson
Fearless this would be the one word to describe Allen Iverson one of the most skilled 2 guards to ever grace an NBA court. In a heart tugging speech that was emotional as it was inspiring A.I. as he is known reflected on a glittering career that had him not only average 26.7 points per game but become a cultural icon of the sport right up there with Magic Johnson and Michael Jordan.
Of course being at a mere 6ft tall and weighing in at 165lbs the fact that he achieved these numbers just add more to his incredible accomplishments, despite his height A.I. would just score, and score and score finding ways around defences with his trademark crossover and ball handling skills that literally made defenders fall to the ground charging into the paint not afraid of what 7ft goliath may be waiting for him carrying the Philadelphia 76ers to their last NBA finals appearance to date and their most successful period in recent memory.
In fact you could say his shot heavy all out approach is a dying breed in today's game with more of a focus on efficiency – however back then there was no more spectacular player to watch than A.I.
Of course sitting here at my Madison Desk typing this blog I'd like to point out that there is no disrespect to the other inductees at this year's ceremony it is just that these 3 players were part of a generation that brought me into the sport of basketball and considering I live in the UK that is quite an accomplishment.