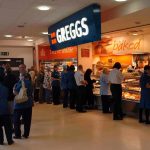 Ok for today's Indian Wood Furniture blog we are going down a quintessentially English route – yes were talking about pastries today.
Ok well not exactly, you see while reading up for some material for today's Solid Wood Furniture blog I found out that Greggs were planning on trailing a new service where they will offer a delivery service for businesses and workers who are in need of a good lunch.
Now I'm thinking that this service will be targeted towards construction workers or labourers who are outside a lot and having lunch with their co-workers would be a good way to build up trust among colleagues especially if your 50 stories high at times - trust and comradery should be paramount.
Now I know what you're thinking 'sweet I can order a steak bake from my sofa and put my feet up on the Indian Wood Coffee Table while it arrives'. Unfortunate for you lazy person this is not how it works as this delivery service will only be available for orders  that are over £25, so yes you can have your Steak Bake delivered to your door – but you will need to order at least 20 of them.
However considering that I am quite hungry at the moment and have been writing about Indian Sheesham Wood pretty much all day I think this blog should be more of a petition for us here at the office to get a delivery of sausage rolls, pasties and other assorted goodies which we can delve into and eventually end up in a brawl over who gets the last gingerbread man.
As always there is a catch, this time being that this is only a trail service that will be in Newcastle only for the time being as a test run – however I hope that one day we will all be able to enjoy the gloriousness of a good pastry on a busy work day.
Make it so!