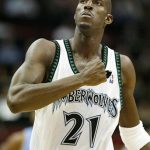 Good Morning Trade Furniture blog readers, today in keeping with the theme of aggressively avoiding the upcoming (and ever over-hyped) football season this week's Indian Wood Furniture blog will be reflecting on the career of one of my favourite basketball players growing up who over the weekend announced his retirement from basketball.
Yes everyone as it pains me to say it Kevin Garnett announced that he would be calling time of a 20 year career that is hall of fame calibre and captured my imagination all those years ago sitting in front of the Rustic TV Unit back when the NBA was shown on free to air TV (yes there was such a time)
Being drafted straight out of high school his career ironically started a little slow as the Minnesota Timberwolves had him coming off the bench for much of his first season as the 5th pick in the draft was still coming to terms with the intensity of professional sport.
However soon enough Garnett blew up and became the face of the Timberwolves franchise putting up insane numbers night in and night out – there is a reason that I had a poster of this guy above my Mango Sideboard in my younger years as he displayed a versatility that was not often seen.
It's actually quite fun to watch the old highlights of him in his prime swatting a shot away rushing down the court and throwing down an alley oop dunk on the other end all while screaming and acting like a man possessed, ironically most of today's players don't even come close to that level of dedication and intensity night in and night out.
Despite this however the road to success was not so easy for KG – unlike his fellow retirees Kobe Bryant and Tim Duncan, winning did not come easy as for 12 years Garnett would often be the one carrying his team on his shoulders to success and despite a very competitive 2004 season winning an MVP in the process no championships would arrive until his trade to Boston in 2007 where in an inspired year he won that elusive championship he had worked all his life for, complete with a defensive player of the year award.
However after another finals appearance in 2 years later and a couple of patchy years in Brooklyn it was back to the Timberwolves to don the Iconic Number 21 for his final season acting as a mentor to younger players and deciding that it was time to call it a career back where it all began.
So I hate to say it but so long KG and thanks for all the memories – looking forward to watching your 21 being raised to the rafters in front of my Solid Wood TV Unit.