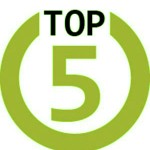 The TV Unit – as ever present in our homes as the coffee table and the sofa it has become something of a staple of a living room design. However picking a TV Unit can be hard as there are so many factors to consider, especially for those with large TV sets.
So here are our picks for the top 5 Large TV Units.
Vintage Media Unit
There seems to be a growing trend lately that things really were better in the old days, whether it's an old VHS player, vinyl records, or fashion we can go out of our way to experience the way things used to be.
Even furniture is immune as can be seen in this Indian Mango Wood piece which is styled to resemble furniture from the 1950's, which is particularly evident in the unit's distinct leg design. However this unit is not all show as it comes with 2 shelves each of which ideal for your media devices and included a circular cut-out at the back of the unit to keep wires out of the way. The unit also comes with 4 storage drawers for extra accessories.
Madison Large 8 Drawer TV Unit
Now this is the unit for you if you want storage and then more storage. Made from Indian Sheesham Wood it's not hard to see why it made it into our top 5. With more than enough room for a large TV set this unit comes with 8 shelves worth of storage each with the cut out for keeping wires at bay as well as 8 small drawers perfect for DVD's, CD's and other media accessories – if you're a big film/tv junkie this is the one for you.
Cube Light 4 Drawer TV Unit
Looking for something that blends Solid Indian Sheesham wood design with a modernist twist – the Cube Light 4 Drawer TV Unit is here to answer the call. This unit comes with a single shelf that spans the width of the unit to give it that seamless look and 4 handy storage drawers underneath, each one being fitted with brushed steel handles for the modernist touch.
Mango 2 Drawer Media Unit
Here at number 2 we have a fine example of the quality of Indian Mango Wood. This item is given a very rich mocha stain, providing the Mango Media Unit with the distinct dark colour that the range has become known for. The unit itself comes with 4 shelves which are broken up by 2 storage drawers in the center of the piece.
Light Dakota Large Media Unit
Well here it is our top pick for the best TV unit for a large TV. So what puts it here, well there is its design with its unit spanning shelf which is more than enough for your media devices without making the unit feel split up. There are the well sized drawers which are great for media accessories as well as your DVD collection. Then there is the Solid Indian Mango Wood construction which shines with both quality and style. All of this makes the Dakota Media Unit a no brainer top pick.