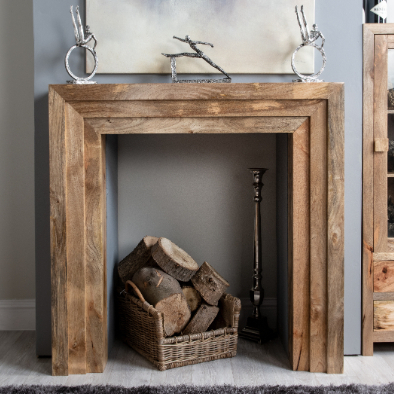 Welcome to our Wooden Fire Surrounds page, where the beauty of solid Mango wood takes center stage in our exquisite collection. Experience the charm of our Mango Fire Surrounds, displaying the natural elegance and durability of sustainably sourced wood. Each surround is a testament to our commitment to sustainability and craftsmanship.


Our best-selling
Light Dakota Fire Surround
is thoughtfully crafted to enhance your fireplace's aesthetic allure. By introducing
Wood Fire Surrounds
into your space, you ensure not only durability but also a touch of luxury, completing your envisioned interior design. This unit is also available in an exquisite dark wood finish, providing even more design flexibility to perfectly complement your decor.
Crafted with care, our Solid Wood Fire Surrounds feature 100% solid mango wood, and our commitment to sustainable practices shines through every piece. Elevate your fireplace with these captivating and eco-friendly additions, meticulously crafted to endure while contributing to a greener environment.