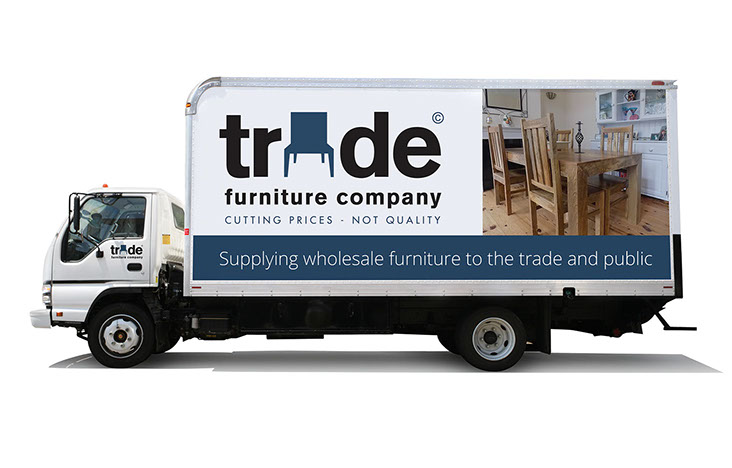 Here at Trade Furniture Company we have our own dedicated delivery team who will plan your delivery date and time slot and contact you directly to confirm that the date and time are acceptable.
Your delivery will be within 7 days* for stock items and you will receive a two to four hour time slot. On the day of your delivery, the driver can call you 30 minutes prior to delivery if requested. We deliver from 6am and up to 6pm Monday to Saturday. If you require a Saturday delivery then this can sometimes result in your delivery slot being beyond the 7 days* promise. The driver will bring the furniture into your house and unpack it for you in a ground floor room of your choice and we will take the packaging away with us so all you are left with is a beautiful piece of furniture. Drivers are supplied with disposable shoe covers to protect your carpet, please ask if required.
*The following postcodes may exceed the 7 day delivery time frame: IV, AB, DD, PH, TR, PL, TQ, CT, EX, TA, BH, SO, PO, BN and including all surcharge areas (surcharges still apply during promotional free delivery offers). Due to bank holidays over the Christmas period orders placed between the 15th of December and 31st of December are excluded from the 7 day delivery promise. As mattresses are handmade to order, any orders recieved including a mattress are excluded from the 7 day delivery promise. Delivery will never take longer than 10 working days and may still be within 7 days.
Our highly trained driver's work on their own so we can continue to provide an excellent delivery service at the lowest possible price so delivery is to a ground floor room only. All items needing assembly such as dining tables will be fully assembled by the driver in a ground floor room of your choice, the driver is able to assemble beds for you at the time of delivery in a room other than at ground floor level however as the drivers are not insured for any deliveries not on ground floor you will be asked to sign a disclaimer prior to the driver entering any other area of your property. If you live in a flat, delivery will be to ground floor of the flat unless there are access difficulties in which case we may only be able to deliver to the main entrance. Large and heavy items such as wardrobes that are delivered to ground floor but are required to be taken to another floor will be unpacked by the driver for your inspection and you will be asked to sign to say that there are no defects or damages then they will be re wrapped to avoid damage to the furniture during subsequent handling. In the rare event of a problem at the time of delivery please make the driver aware and he will comment on the delivery note for the customer service team to follow up. Trade Furniture cannot be held responsible for damage not noted at the time of delivery that occurs once the driver has left the property due to mishandling of the furniture.
Please remember it is your responsibility to make sure there are no access or space restrictions at the time of your delivery. It is important to make sure you measure the designated area and access ways for your new furniture. All of our products will be delivered to you packaged and we would ask you to allow for this. Please also consider skirting boards, staircases and doorways when measuring up.
Our Liability
In the event of any unforeseen circumstances (such as lorry breakdown, traffic accident, major traffic delays or severe weather) we will do our best to contact you to rearrange an alternative delivery timeslot or date. We will not be responsible for any losses (including loss of revenue, profits, anticipated savings, goodwill or business opportunity, for any injury to your reputation) incurred due to a delay in delivery arising out of any case beyond our control.
If you have any qu
estions regarding
your delivery do not hesitate to
email us and a member of our team will get back to you.
Delivery charges depend on the combined total of your order:
Under £100
£9.95
£101 - £200
£14.95
Over £200
£29.95
Total delivery cost to the following areas via external courier
Isle of Wight
£115
Isle of Man
£164
N.Ireland (BT)
£120
We use an external courier to deliver to the postcodes listed below and as such no delivery charge will be calculated at checkout. We will contact you at the earliest given opportunity regarding the cost of this delivery.
INV17 - 28, IV33+, PH28+, PA20+, ZE, HS, KA27 - 28, KW,
Rep IReland, JE, GY1 - 8


The external courier delivery is a palletised delivery service, which will take place Monday to Friday 9am-5pm. This is a kerbside delivery only, the courier will not bring the item into the property, and they are only insured to bring the furniture to your door but not inside. We will drop the furniture off at the courier's depot; from there they will be in contact regarding the final stages of delivery. If any items from the above postcodes unfortunately need to be returned this will be subject to a collection charge, and the delivery cost initially paid will not be reimbursed.


When your furniture is unpacked please take the time to check that you are happy with it before signing the delivery note as cosmetic damage cannot be rectified following delivery, this does not affect your statutory rights. In the rare event of a problem please make the driver aware and he will comment on the delivery note for the customer service team to follow up.