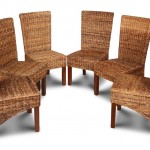 There are lots of different things that can make a dining room look good. Whether it's a new mirror on the wall or a new dining set. Something that will always make a difference is the dining chairs you choose. If the chairs are upholstered using leather then it delivers a modern touch to your dining room and if they are made from something like Rattan then it exudes a more traditional feel to your home. We're going to talk about a selection of the 4 best Rattan Dining Chairs that we have available. Our stock comes in a variety of different styles – Havana, Salsa, Rollback and Croco.
Havana chairs are a wonderful choice for any dining room if you need that simplistic look that will give you dining room that extra traditional touch. The Havana chairs are good for a solid wood dining table that is a basic piece that needs something to give it that extra spark and make the room look fresh and new, yet old-fashioned and rustic.
Salsa chairs are the perfect choice if you are looking that simple design but you'd like something that isn't plain and boring. There is a clear rattan border around the edge of the backrest so you get that traditional touch and looks unusual as well so it is a brilliant conversation starter that will get the family and friends talking about your dining room furniture for weeks to come.
Rollback chairs are, perhaps, one of our best sellers, and for good reason. These gorgeous chairs are dipped at the back of the base and have a curved backrest so you get an extra element of comfort and get something astoundingly beautiful to look at too.
Croco chairs are a really popular choice for most dining rooms too. The backrests are vertical and the bases are often covered to the bottom with the rattan material so you get that added traditional feeling and get one of the finest and strongest types of chairs available.
All of our Rattan Chairs are made using Banana Leaf Fibres that has been woven around a hardwood mahogany frame, making them incredibly strong and durable. Most of our chairs are available in a light or dark leg finish so you can get the right chairs to blend in with your dining room and your dining table.