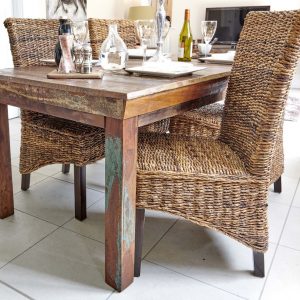 Introduction
Rattan Furniture is a luxurious style which showcases skilled craftmanship and a durable exterior. Popular across the country, this style appears in storage boxes, chairs and furniture frames for a traditionally charming look. Below, you will read all about the specific qualities and elements of Rattan Furniture so that you can furnish your home with skill.
What is Rattan Furniture?
Rattan Furniture is made from banana leaf where it has been weaved in and out to create a delicate yet durable pattern which is then finished with a protective lacquer. To keep this tight and uniformed, glue is used to seal and loose ends shut. Usually pieces of Rattan Furniture are used in a conservatory or a patio due to their durable nature however these can be used for any room in the house such as a home accessory in the living room or as a standout piece in your dining room.
Rattan Furniture can encompass tight patterns or a looser design, but generally always features a bright yellow colour to radiate throughout your home. Furthermore, by using only banana leaf fibres from a sustainable source, these furniture additions are ethical and on trend.
In terms of our Rattan Chairs, you can choose from thrilling dark wood legs or complimentary light wood legs for a personalised twist.
Styles
Here at Trade Furniture, we are proud to offer a diverse range of styles and options to choose from. Starting with our dining chairs, we offer Havana, Salsa, Rollback, Croco and even Havana Antique.
The rollback rattan dining chair has a very modern contemporary design and offers a deep base and roll top feature. This gives an elongated look with traditional charm, and is fit for even the most active of families.
The fashionable Croco template incorporates a high back and deep base for a similar contemporary feel, however this chair highlights a fantastic squared off top. Both of these styles feature an accentuated design with extra rattan weaving material for a supported chair option.
Our more classic looks include Havana or Havana antique. Both offering the same style, Havana features a tight knit cover, whereas Havana Antique features a looser, thicker weave. Nevertheless, both these styles showcase that charismatic squared chair with a classic frame and are the defining Rattan dining chair.
Furthermore, Salsa offers an exquisite twist into the traditional Havana style, and instead features an indented back and sleek frame. With a thinner back weave and sharp edges, the Salsa chair is perfect for a modern twist (which still includes an abundance of durability).
All of these deluxe chair styles can be incorporated into any room, but will thrive best in a dining room aesthetic. We offer a multitude of different tables to suit your needs, from 2 seaters all the way up to 8 seaters in a variety of different styles. Our Rattan Dining Chairs are crafted to compliment any dining table which means you can choose the style you like.
You can also browse our range of unique chairs for relaxing and lounging. For example, the Rattan Potenza choice is a deep base chair which is available with either a left or right arm design, and is a great focal point within in a hall or corner of a room. Alongside the rattan chairs detailed above there is an easy chair perfect for a conservatory and two designs of bar stool available with or without a back.
We are also proud to offer a variety of different Rattan Furniture additions. This includes units such as our baskets or mirrors.
Our storage baskets are created with a skilled hand and can be bought in a variety of sizes. These baskets can also be used within your bookshelf for blankets, books or home essentials. Similar to our dining chairs, each basket is crafted with banana leaf fibre and can be bought in either a bright or subtle yellow exterior.
Finally, we stock a select few varieties of mirror with a rattan exterior. Weaved in and out of their unique and quirky frames, the banana leaf fibre offers an abundance of support to the mirror and brightens up any room. These mirrors can be used in almost any room and compliment all of the furniture styles we offer.
Furniture Care
There is one issue that comes up a lot though when our customers ask questions about the Rattan material – cleaning and furniture care. How exactly is best to clean your rattan units or accessories? Well, let us enlighten you with a few great tips for cleaning:
• A vacuum of the furniture is best to pick up the small parts of dirt and dust – a vacuum capable of picking up these fine bits of dirt will be best used. It is also advised not to use large floor vacuums and instead to equip smaller handhelds.
• Water and dish soap mixed together, three parts water, one part soap will be best to clean off the fabric. Use a lint free clean cloth to wipe the fabric – if necessary a toothbrush can be used for tight areas of the material.
• Be careful not to make the weave too wet when you clean – use the bubbles of the soapy water to clean rather than applying too much water.
• A weekly or fortnightly clean of the fabric is recommended. The clean shouldn't take too long and will keep the fabric well maintained and clean looking.
• For dry, cracked or split rattan – boiled linseed oil applied with a soft brush works best. Allow the oil to dry when the rattan won't absorb any more oil, and then dry with a clean dry cloth.
It is also worth mentioning that the solid wood legs on our chairs can be cleaned with a dry cloth for dusting, and if cracked or scratched you can purchase one of our many coloured wood pens for a quick touch up. We also offer 2 different types of wax that can be used by lightly rubbing in with a new cloth and leaving to dry.
To protect your furniture from damage or destruction, ensure your furniture is kept out of direct sunlight. Whilst a vibrant sun beam can radiate throughout your room, it is best to not leave them exposed for too long or the exterior can become faded or bleached.
Furthermore, with our rattan material it is best to not get it too wet, and if they are outside to cover with a sheet. This is so that the material doesn't become damp and start collecting bacteria, which in turn can loosen the material.
We hope you enjoyed reading this buyers guide, and if you have any other questions or queries, please check our FAQ's and delivery sections on the site. Happy shopping!