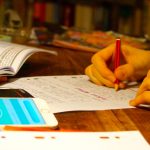 Hello all you weekly Trade Furniture blog readers, glad you took the time to come away from our lovely selection of hand made Solid Wood Furniture to read todays blog – and for this we are going to look at the study.
Yes a room that some people relish and fear in equal measure the study is the place where you go when you want your brain to take 5 and get away from all the hustle and bustle of everyday life allowing maximum concentration with minimum disruption.
Personally, I love the study – the opportunity to completely escape from the world and allow my brain to truly thrive and unleash the creative spice that awaits within.
So without further or do here is my picks for the Top 3 Trade Furniture study essentials.
Yes, for starters lets go with what is the center of the study. Now unless you live in the dark ages or just have some sort of irrational fear of technology then you are more than likely going to have a PC. PS's are amazing as not only can they used for work but also for play which means having a computer desk is a must have as not only can you work hard but also have some down time with no disturbances from anyone which is ideal for both working and gaming all in the comfort and security of Solid Mango Wood Furniture.
Madison Small Bookcase
Now we here sell a variety of Solid Wood Bookcases however for our study essentials list we have gone with the Madison Small Bookcase. The reason for this is simplicity as its design incorporates 3 spacious shelves that each can hold anything from folders to books to old documents and more Study essentials without the fuss and without the 'did I put this in the drawer or on the shelf' scenarios.
So to finish our list we go with the Indian Sheesham Wood Console Table, this example being from our Cube Furniture collection. This simplistic piece has one very important purpose as it is an ideal place to put your broadband router keeping it out of the way and off of the floor.