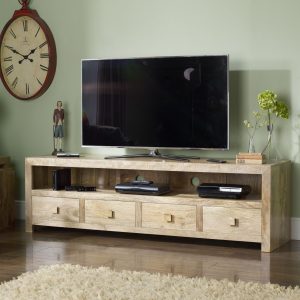 Introduction
Hello everyone and welcome to a fantastic buyers guide tailored to your needs and desires. With a sophisticated and long-lasting edge, we provide amazing tv units designed for your house – and you can learn all about them below.
Sizes
One of the best features regarding our Wooden TV Units collection is the vast range of sizes that we have available. Not only does this mean you will be able to find a unit big enough for your brand new 50" 4K TV, but also one that can adapt to your home design as well.
You can choose from a classic variety of individually shaped tv units. This can include the basic rectangular shape or a modern corner shape for that space saving finish.
Our simple yet effective rectangular shape can be used to compliment sofas and coffee tables, and acts best against a flat wall or even stretched across a corner. These types of sizes can be used in living rooms or bedrooms that are of a rectangle shape to begin with, as it elongates the rooms luxury and elegance.
Each one of our corner units is designed to be placed within a small crevice or area, taking full advantage of your rooms design and layout. This is particularly useful for smaller living rooms and even bedrooms, as rather than choosing a small unit for space reasons you can take advantage of the unused corner space.
This level of flexibility is furthered when you consider the amount of media storage throughout all of our media units regardless of shape. All of them incorporate at least a surface area for the tv alongside an abundance of storage potential.
Furthermore, all of our furniture ranges provide different sized tv units to suit your tv, whether your set is small, medium, large or even extra-large.
Material
Here at Trade Furniture, we stride to lead by example and as such want to provide a heathy lifestyle choice which doesn't downplay all the classic features, we have come to love about solid wood furniture.
By doing this, we can guarantee ethically sustainable wood and material choices to be incorporated into your tv unit. For example, our range such as Vintage Mango, Vintage, Dakota and Mango Furniture are all crafted from the renowned Mango Wood.
Mango Wood is derived from the Mango tree, a tasty fruit which is popular across the UK. After 15 years, these trees stop blossoming fruit and as such are barren and useless – until we come along. Because they mature after only 15 years, we have created a sustainable cycle where no trees or wood is going to waste.
That's why the ranges listed below are crafted lovingly and radiate a premium quality, whilst promoting a healthy furniture alternative for you to enjoy.
Furthermore, throughout Jali, Sheesham, Cube and Cuba Furniture is Sheesham Wood, a gorgeous well-made wood which again is sustainable and sleek.
Sheesham Wood is good for many things, and alongside other qualities, is known for maintaining its strength and providing fantastic structures for units such as tv shelfs.
Some of our products are crafted with cast iron detailing which is a simple yet effective material for a thrilling contrast.
How to look after your TV Unit
TV units are the forefront of any excellent living room design, As such, you need to make sure you care for your tv unit appropriately and treat it with care.
1. Firstly, it is important to keep up to date with light cleaning. This can be done with a duster or linen cloth. By gently sweeping in one direction or light circles, you can remove that first layer of built up bacteria. It is not advised to use harsh chemicals or polish on these units.
2. Secondly, if your unit appears scratched or damaged, we offer a range of coloured wooden pens which are specifically designed to touch up any colourless areas of your tv unit. These pens will last for a while meaning you can always cover up little bits of your media shelf.
3. If the overall colour of the wood has dispersed or lightened, which it shouldn't do, we offer a well-made furniture was in either a light or dark colour. To apply this, it is best to retrieve a wax brush or light fresh cloth – making sure the cloth is without loose fibres. You need to make sure the unit is cleaned properly (see step 1) and is clean of any dirt. Apply the wax in small circular motions, attempting to travel along the wood grain for a more natural polished affect. After finishing this thin coat, leave for anywhere between 30 minutes to the next day (it is best to leave overnight). The final step is to use a new cloth and buff it slightly in small circles. This process can be repeated until you achieve the desired dark or lightness.
There are also some areas of improvement you can do to ensure issues like the above won't arise. For example, it is best to use tv sets which are tailored for your unit. Using tv sets which are too large for the unit can over time damage the surface area and the overall flexibility of the frame. This is the same for storing home essentials.
Like the rest of our solid wooden furniture, it is advised not to keep this units in direct sunlight for too long as this can bleach the exterior making the colour fade (although if this does occur, step 3 is the best way to amend this)
Styles!
Here at Trade Furniture, we pride ourselves on being able to provide high quality furniture additions for you and your family. But incorporating an exquisite exterior and design is just as important for us; which is why we offer a wide variety of collections to choose from.
TV Units have become one of the mainstays of modern living room furniture design. Much like the coffee table, the tv shelf is always a recognisable feature in the home and represents the modern family living room to a tee.
We can offer your tv and media units from ranges such as our Mango or Dakota Furniture for a traditional flair. Both of these collections also encompass thick supportive wooden frames for a durable guarantee.
Furthermore, our other collections include Jali and Sheesham Furniture, which style incorporates an Indian flair into it. These tv unit additions are complimented with cast iron detailing and a sleek glossy exterior.
We also other either Cube or Cuba. Cube Furniture is a traditional style which features chic metal handles and a charming solid wood frame. The exact same is Cuba, except these units have charismatic wooden handles instead for that final personalised twist.
At Trade Furniture, we also provide tv units from our smaller, yet still sophisticated collections. These collections provide 60s and 70s inspired designs, as well as fresh revolutionised styles. This can include Vintage, Vintage Mango, and Industrial to say the least. Because of all of this, we can guarantee you will find a premium tv shelf to bolster your living room aesthetic.
After reading this buyer guide, we hope you are more enlightened of the fantastic qualities of our tv units and as such have a better idea of how to transform your living room.