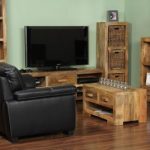 Yes, we all know the convenience and price benefits of a certain well known, meatball-loving flat-pack obsessed Swedish furniture company, but there is a definite backlash against the homogeneity that this culture has proliferated. You only have to bear witness to the hordes of young people rebelling against digitally compressed MP3 format music in favour of vinyl records to understand that change is afoot. We've all got those functional, but ugly and characterless pieces of furniture that have probably been disguised by clutter over the years just to be able to put up with them.
Now is the perfect time to declutter – just look at the trend that has gained so much momentum thanks to significant social influencers like Marie Kondo who has taken the world by storm. Using this as inspiration you can create a living space with quality items and less of the poor quality flat packed furniture is a perfect start.
So, first things first, in order to declutter your living room, simply make four piles. Keep, Sell, Recycle and Trash. With the items that end up in the Sell pile, Facebook marketplace has become an excellent place to get rid of household items and make a bit of cash as there are always local people looking for useful items. The other piles are self-explanatory.  Once you have a relatively clear space, or at least can visualise it, it's time to look for those statement furniture pieces. Dedicated online furniture retailers like Trade Furniture Company are a brilliant place to find quality items to furnish your room with pieces that will look great and last for years to come.
Industrial furniture is very of the moment and there are some lovely pieces out there with straight lines and the contrast of dark metal and quality Indian wood is really rather stunning. You can find bookcases, TV stands, dining tables and media units as well as other specialist pieces in this style. If you do decide to go industrial, it's worth having the mantra 'go big or go home' in your head as this style certainly looks far better if you keep a consistent theme in the room.
For those who like more of a quirky, this insanely loveable reclaimed furniture style collection could be for you. Its melange of different coloured woods is enchanting and creates an aura of calm, casual beauty. You can imagine sitting on your favourite chair surrounded by a few choice pieces from this collection and really feeling incredibly contented.
With the world the way it is at the moment this feeling of calm and tranquillity should be grabbed with both hands wherever we can find it. For more along these lines, why not consider bringing some root art into your home? Tables made of tree roots and topped with glass can look absolutely stunning and bring a touch of nature into your space. This actually complements both the industrial and the more casual look quite beautifully and provides a talking piece for when friends and family come over to share your new, decluttered and striking living space.