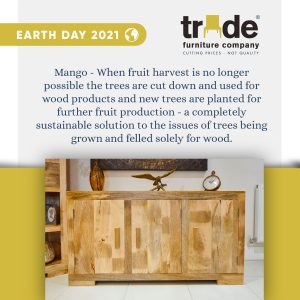 Introduction
Today April 22nd we celebrate World Earth Day, where we show our support for environmental protection 51 years since it first started. This year's theme is Restore Our Earth which is a global call to take concerted action and find better solutions to restore our planet.
Here at Trade Furniture, we are serious about protecting the earth and are constantly trying to find new ways to make our business more sustainable while saving the environment. As such most of our collections are crafted from mango wood; it is perfectly environmentally friendly and completely sustainable along with not being harmful for the planet.
Mango Furniture
 A lot of people wonder why we use Mango wood opposed to Oak, the answer is simple we at Trade Furniture are all about sustainability and Mango wood is the better option, with Mango trees only taking 15 years to mature compared to the 50-100 years Oak trees take. Along with this, Mango trees are only grown for the harvesting of Mangos meaning there's an abundance of them out there. The trees are only cut down when they grow too tall to safely harvest from or stop baring fruit completely, in the past when this happened they were cut down and the timber was burnt now however when they are cut down new trees are being planted immediately. Thanks to the use of mango wood in furniture it provides famers with another source of income for them on top of helping reduce air pollution as we are planting more trees since they have been cut down. You can find all of our Mango Wood Furniture pages here.
Packaging
We are proud to say over the years with have made many changes to how we package our orders to ensure that we are overall more sustainable and environmentally friendly. Packaging tends to be the main product for many companies out there on their steps to becoming environmentally suitable as it is the easy choice being a cheap and light material. However we are fully committed to decreasing the amount of plastic we use by using corrugated cardboard as our packaging instead of bubble wrap. Presently, we are working with our manufacturers to make sure that all of our shipments have the smallest amount of plastic, and we have even got products that are free of plastic. We aim to be completely plastic free by 2022 whilst still making the boxing light and ensuring products don't arrived damaged.
Delivery
We receive orders all over the country from right to the tip of Scotland down to the bottom of Plymouth, we also deliver all of the inland orders ourselves. This allows us to be confident that the products will not be damaged in delivery and it happens in a timely manner. On top of this it means we can quickly change our delivery process according to scientific research and analysis such as social distancing and sanitising during COVID-19. The latest research for reducing carbon footprint is to use fleet vehicles that are under 3.5 tonnes which are currently doing. We listen to the latest research and are continually looking at new ways that we can help and improve. For more information about delivery see here.
Reclaimed
Sustainability is at the heart of all the decisions we make at Trade Furniture, that is why we found it important to have a range that is both fully sustainable whilst still having a unique design that looks good. This is where our Reclaimed Indian Furniture and Recycled Retro ranges are perfect for any sustainable home. These products are crafted by upcycled Acacia and Sheesham wood meaning less trees need to be felled and saves the wood going to waste. Doing this therefore brings out more colours such as the Blue's and Green's providing a unique finish on every product.
Rattan Furniture
The use of Mango Wood is not the only sustainable source we use for our furniture we also create a range of Rattan products!
For those that don't know Rattan is essentially a climbing vine which grows alongside trees. This can grow over 2cm per day which equals up to 6 metres per year. This means that within 2 years it can be fully grown and harvested within 2 years whereas some other woods can take up to 30 years. Rattan is useful for forests as this; protects them from degradation, habitat for endangered and threatened species as well as providing a good income for rural people and a long-term supply of useful materials. This is why Rattan is a fully sustainable wood option that helps both the environment and the rural members of society.
We are consistently trying to find new ways to improve our already sustainable business ways, however we will not stop looking for new and improved ways to help the environment. You can also see here for our sustainability page for more ways we help and if you have any questions on this please get in contact with sales@tradefurniture.co.uk. Also for more information about Earth Day you can find everything else here.