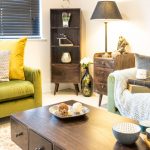 Hello everyone and welcome to another fantastic Trade Furniture Blog. Slowly but surely it is ending close to December which can only mean one thing – Christmas! I love Christmas and all the joy it brings, but I also secretly love all the gifts that I get!
Now I know that sounds particularly selfish, but you know you enjoy the presents as well! Today I want to talk about the ideal Christmas gifts, and more specifically whether Light or Dark Wood Furniture is the best! Now at Trade Furniture there are several different ranges which offer a few types of Indian Wood, especially Mango and Sheesham Wood.
I personally prefer the former, specifically Dakota Light Mango Wood Furniture such as our Light Dakota Corner TV Unit. You can just imagine curling up in front of that as the snow falls softly outside and the tinkle of a Christmas movie radiates throughout the living room. It's a dream come true!
But hold on, let's not forget about Dakota Dark Mango Wood Furniture! The beautifully thrilling exterior is enough to make any home aesthetic thrive, especially with my favourite product – the Dakota Large Nest, a subtle yet fashionably on trend addition to your living room.
Furthermore, if you're a reader then why not invest in a Dark Wood Bookcase that not only supports books, but also decorations and folders. I love the feel of the simple shelves as they elegantly warm up your room. The perfect example of this is the Retro Chic Bookshelf – and that even has a drawer for those hidden home accessories.
I don't know about you reader, but living in a small space can often be difficult, and you might not want dark colours to steal some of that precious space away. That's why I would also recommend Light Mango Wood Furniture – giving your household that summer vibe all year round.
In conclusion, I think that either colour gives Solid Wood Furniture that dash of sophisticated elegance - and can both suit any home aesthetic, size or requirements.
I hope you have learned some of the best ways to make the most of your space and the pros and cons of each colour finish. Have a good day!