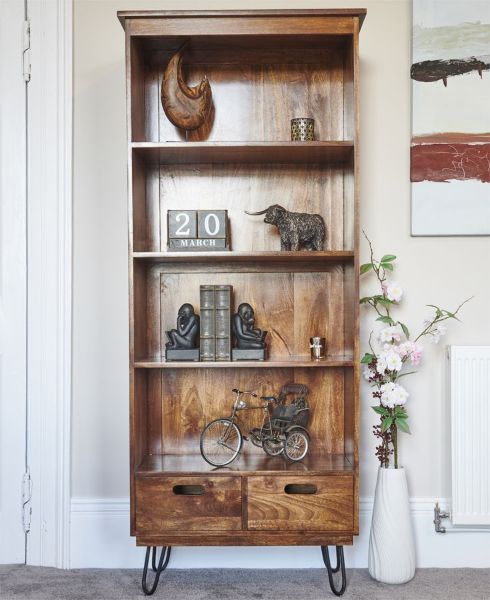 Welcome to our fantastically lavish Solid Wooden Bookcase collection! We have handpicked each of these units to represent the magnificent products we offer, heightening both storage space as well as adding a dash of Indian flair into your living room.
This range offes a mixture of different styles, from traditional Solid Wood Bookcases to more modern styles such as the Industrial Bookcase; giving you the choice to furnish any style, size or home aesthetic you desire.
Here at Trade Furniture, we know how special furniture is to families, so we ensure only the finest quality, naturally sourced Indian Wood is fashioned into our products. These materials, featuring classics such as Sheesham Wood are well known for encapsulating a charming exterior and providing outstanding durability for a prolonged period of time. 
You can even decorate these units with their extended shelving area, just like our Open Bookcase in a Mango fashion. These chic additions to your household will forever bolster your living room and ensure a lavish aesthetic for years to come.  
Having the capability to support photographs, decorations, folders, books and much more, each of these Mango Bookshelf options, regardless of size or design, have an unleashed amount of potential to thrive within any home and capture that fresh feeling essence.