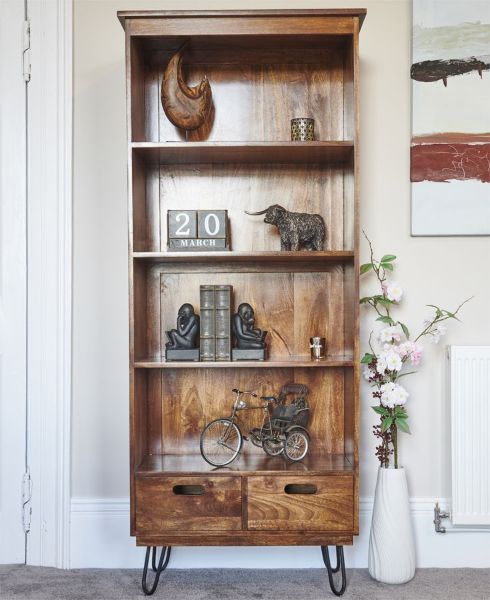 Nothing says luxury quite like a towering solid mango wood bookcase. Each bookcase in our extensive collection has been carefully handpicked to match the quality and style our customers have come to expect. Not only do they offer exceptional storage space, with broad shelves and in some cases, convenient drawers, the beautiful mango wood finish offers a dash of Indian flair into any home these stunning bookcases are placed in.
Display a library of your favourite books combined with your favourite ornaments and trinkets to turn any house into a home. Within our bookcase collection, you'll find a mixture of various mango wood finishes, from bright Light Dakota, through to rustic Retro Chic Bookshelves. Our bookcases come in a huge range of shapes and sizes, so there really is something for every shape and size of room. Don't forget to check out the rest of our Living Room Furniture, to find the perfect combination of hand crafted, sheesham wood furniture to transform your home.
Say goodbye to cheap veneer alternatives and enjoy solid wood furniture at trade prices The Trade Furniture Company. Solid wood furniture really is timeless, so whilst trends and fashions may come and go, you can feel rest assured that your mango wood bookcase will last the test of time, remaining stylish and durable long into the future.
We source all of our mango wood furniture from sustainable sources, so you know that your new bookcase is not only absolutely stunning, but also environmentally friendly.