Mango Wood is a luxuriously versatile material which can be used in a variety of ways. Today, you can read all about the different collections we offer as well as the sophisticated qualities of this fantastic wood.
What is Mango Wood?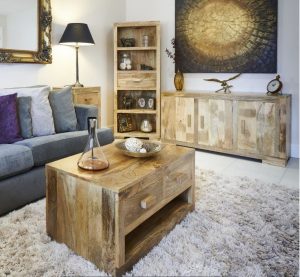 Scientifically known as Mangifera Indica, Mangos only grow on their trees for up to 15 years. After this time, the trees become barren and stop producing the healthy snack which we have come to know and love. The trees themselves can become particularly large, reaching fantastic heights of 100 feet or more, with a canopy reaching 35 feet or more.
Furthermore, Mango Wood is a material that can be manipulated and crafted in a multitude of different ways, meaning we can offer you all the collections seen above. Its supportively durable guarantee provides strong frames and structures – making it a perfect match for furniture.
Mango Wood is known worldwide for encompassing a wide range of fantastic qualities which are shown throughout our furniture pieces. This includes things such as long lasting, supportive, sleek and strong- all of which create the sophisticated units you have come to know and love.
Where is Mango Wood From?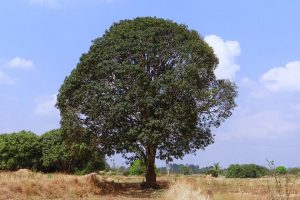 Mango trees can be grown and harvested in nearly any tropical climate. However, they are traditionally found in places such as India, Brazil and even Australia. The tropical climate allows for the fruit to grow in short spans of time, whilst also providing a large canopy.
Is Mango Wood Sustainable?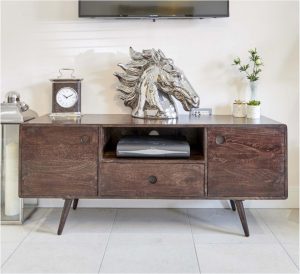 In current times, providing and living a healthy lifestyle is the most efficient way forward. Because of this Trade Furniture Company have taken the necessary steps to offer ethically sustainable furniture alternatives for you and your household. Firstly, as you can read about on our sustainability page, we naturally source our materials. By replanting the trees we cut down, we have formulated an effective cycle which guarantees great looking products that are helpful for the environment.
This makes your mango furniture ethically sustainable and promotes a healthy lifestyle for you and your family. If you would like to read more about our sustainable promise, click HERE.
How To Treat Mango Wood Furniture?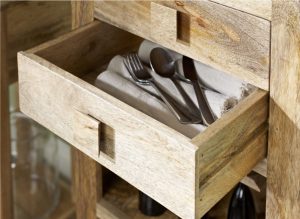 Although our furniture products are of a premium quality and can support your household throughout hundreds of unique experiences, there are certain ways to preserve your beautiful furniture and keep them lasting for a long time.
Sunlight is a big factor in protecting the exterior of your solid wooden furniture. When furniture pieces, no matter what colour, are exposed to direct sunlight or even through a window, over time the exterior can become bleached and as such ruins its glossy effect. Because of this, we advise you to keep your furniture in a place where sunlight may not directly affect, and if outside cover with a sheet. It isn't to say that sunlight should be completely avoided, as the rich sunbeams can reflect off of your high-quality units – but the exposure should be documented and controlled
Objects that are too heavy or dangerous shouldn't be placed onto these pieces as they can scratch or possibly dent the frame, even though we aim to make our pieces are supportive and durable as possible.
If, however, you do create or find any scratches on your furniture, we sell differently coloured wood pens to touch up your exterior. These pens can be used in a variety of ways, and we offer colours for every wood finish.
1.Every day, ensure you lightly dust or clean your furniture. This will get rid of the outer layer, and stop bacteria becoming trapped upon the surface of your furniture.
If possibly try and avoid exterior and restore that fantastically sleek look once again. This wax is available in 2 colours – light and brown. The wax lasts for a long time, and only needs a top up between 6 months – a year meaning you can continue living in luxury.
In terms of daily or weekly care, you can lightly dust your furniture with clean and dry soft cloths to remove airborne deposit. If this isn't done adequately, these deposits can form a filmy layer which in turn damages the surface and again can create scratches and tears ion the material.
How to compliment Mango Wood Furniture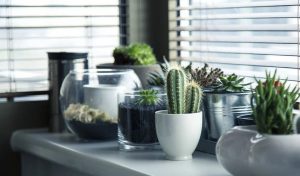 Our Mango Wood Furniture features many different styles and designs' so of course there is not just one way to furnish your room. However, there are certain ways which accentuates all wooden furniture designs and additions. For example, light wood furniture can be complimented with lighter wall and a fresh aesthetic – which can be achieved with a beige or brown colour scheme.
Furthermore, by sticking to 1 primary colour, with a further secondary colour, you can create a consistent interior design which ties in with one another. Wooden floors are also a great addition for light coloured furniture, as well as bright accessories such as pillow, books or decorations.
For dark wood furniture, more dominant colours can be used to reflect that same thrilling colour. These include items such as decorative wallpapers, with a light-coloured carpet to focus solely on your fantastic furniture.
Wooden Furniture can also be complimented with selected window panels and lighting structures. Light wood furniture looks fantastic in a fresh, airy room, with bright white lights on an evening, however darker colours are much more ambient in a cosy yellow light setting. This is why colours such as beige and brown are so suited to light colours, whereas deeper colours such as red or maroon are complimented with yellow lights.
Living Room Furniture
For an abundance of style, charisma and sophistication, our Mango Wood is featured throughout many of our living room furniture options.
Solid Wood Coffee Tables
Coffee tables are used as a centrepiece in nearly every living room design. With a featured surface area and often incorporating additional qualities such as drawers or shelves, our fantastic range of coffee tables can be used for dinks, books and extra storage. This is in items such as the new Large Light Vintage Coffee Table seen below.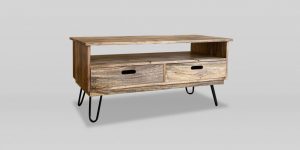 Many of our styles come with cast iron or solid wooden handles to help provide your living room with an indian flair which is easily accesible and long lasting.
Solid Wood Sideboards
These wondrous items can be introduced into many rooms, including the living room. Generally, sideboards have several storage opotions and are wide in nature, allowing for a fantastic amount of decorational value on the top. As seen in the Mango Wide Sideboard below, these fantastic storage units play as a vital part in complimenting your room edges, hallway or as mentioned above, living room.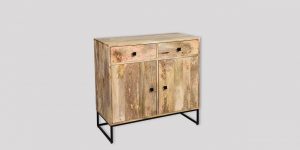 Wooden TV Units
Of course, acting as a statement piece in many living rooms is the sleek tv unit at the forefront. We aim  to make our tv stands as durable and supportive as possible, and mean you can choose one to accomodate any small, medium or even large tv set. Similar to coffee tables, these units can feature shelves, surface area and drawers for box sets or decorations.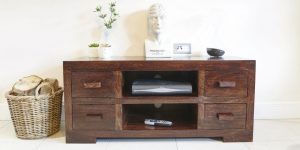 Dining Room
The dining room is the place for all families to gather and converse, whilst eating, relaxing or even playing a board game. Thats why you should fill that aesthetic with luxurious Mango Wood items.
Solid Wood Dining Tables
With support and durability is our fantastic dining tables. We are proud to offer a diverse range of styles and colours. For example, our Vintage Furniture range has fantastic tables with a tiwst, and are guaranteed to provide long lasting freshness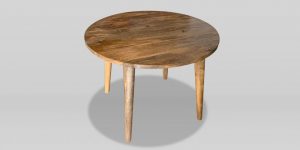 Wooden Dining Chairs
Within a few of our mango colelctions are premium wooden dining chairs to compliment and accencuate your dining table. With sturdy legs, solid wooden frames and cleverly designed backs, these chairs are suited for relaxing and casual lounging.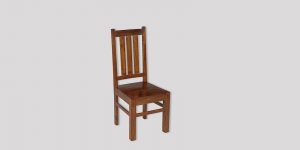 Fabric Dining Chairs
Whilst not crafted out of Mango Wood, we believe our popular collection of fabric dining chairs offer that slight edge of luxury and of course will thrive with any sellection of mango furniture products.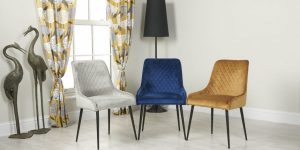 Study Furniture
A place for work, or simply to pass the time is the study. This room needs to be as organised yet exquisite to provide an essentially dominating aesthetic.
Wooden Desks
A prime example of luxurious sophistication is the classic wooden desk. As mango Wood is extremely versatile and manageable, we are able to offer a delkuxe range of desks ranging in size, but which all support a monitor with some extra storage space.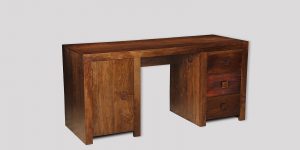 Display Cabinets
Display Cabinets can be used to proudly show off an abundance of achievements, or simply to decorate your home even further. Being surrounded by aesthetically appealing objects can also increase your relaxed mindset - making it perfect for work.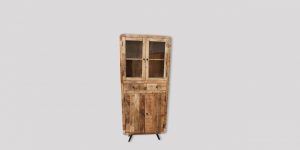 Solid Wood Bedroom Furniture
Bedrooms are a necessity in any home design. Being the place wher we sleep, we all aim for an intimate design which is organised and chic.
Bed Frames
Featuring an exclusive range of sizes and designs, our Mango range gives you the option to pick the bed you desire, offering hundereds of relaxing experiences.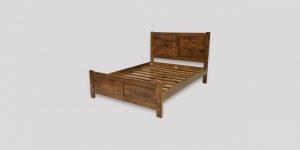 Mattresses
To finish off your bedroom design, you can opt for any of our 3 mattress designs. These come in Victoria, Tencel or Royal Crown.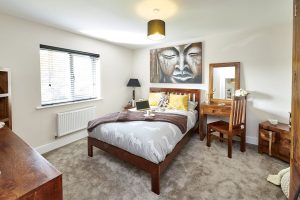 Nightstands
As many of you may know, bed frames are often supported and even accencuated with nightstands. Nightstands are a small table which can hold lampts, photographs or landline phones. Usually equipped with furhter storage, our nightstand options are sure ot provide your bedroom with that finished feeling.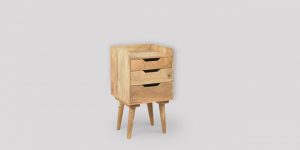 Mango Wood Furniture Collections
At Trade Furniture, we pride ourselves on offering many deluxe ranges and styles of furniture all crafted lovingly from Mango Wood.
This includes our simple Mango Furniture, a traditionally charming style of premium furniture, with solid wooden handles, thick durable frames and either a light or dark wood finish.
Similar to this is our Dakota Furniture range, one of our most popular styles which offers a deep thrilling wood finish, alongside a vibrant light wood finish throughout its long-lasting frame.
We also offer our Vintage Furniture range, units which incorporate that divine 60's flair and small yet effective handles for an epitome of practical fashion. These products are available in either a light or dark wood finish.
Or how about our Vintage Mango Range. Whilst similar to our vintage furniture, these charismatically charming pieces instead feature circular indents for that seamless look.
We also create an abundance of Retro styles and designs, including Retro Furniture, Retro Chic Furniture and Rough Sawn Retro, all of which thrive with a sophisticated edge.
Our newer collections also include the popular Industrial Furniture, which is complimented with iron cast legs and detailing.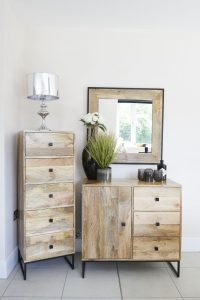 We hope you have labsorbed as much information as possible from this buyer sguide and can browse our extensive range of mango products for a sophisticated home atmosphere.