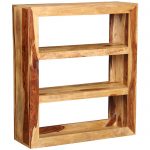 Let me ask you something readers, what is the most frequently used piece of furniture within the home? Is it the Dakota Coffee Table or perhaps your Mango TV Unit to catch the morning news (or to watch Piers Morgan start arguments with people, if that's your cup of tea).
However both of those answers would be wrong, in fact the furniture you are most likely in need of in the morning is the humble shelf.
Surprised? Well when you sit down and think about it, how chaotic would your home life be without this simple yet effective piece.
Now 'shelves' can be found on many different pieces of Solid Wood Furniture away from purpose built shelving units. From the surface top on the humble traditional sideboard, to the built in storage spaces in your bedside table and even the Cube Sheesham Bookcase being another example.
Despite what form they may come in, the common shelf has become the dark horse of any modern home furniture design, always being their working away in the shadows to make your home as clutter free and organised as possible.
What is amazing however is how this translates not just to one room, but the entire home. Unlike pieces such as the Dakota Coffee Table which are more specialised pieces for specific rooms, shelves have almost unlimited impact on your home design.
Take your average morning routine for example. You wake up and go into the bathroom and get yourself freshen up with the toiletries and cosmetics, then you might head downstairs and have some cereal, then into the living room for a brief moment of relaxation before getting your keys and heading out for the day.
What's the common factor of all of this? Your cosmetics and toiletries are kept on an Mango Wood Shelf, your Cereal is neatly stacked on a kitchen shelf, your keys and other morning accessories are kept in a shelf on the Jali Dresser.