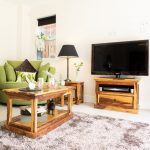 Sheesham Wood – an introduction
In order to understand the unique properties of Sheesham wood it's important to have a look at the history of the wood itself. Sheesham wood comes from a tree that is indigenous to the Indian subcontinent and Southern parts of Iran. While these are the areas the North Indian Rosewood (the tree from which Sheesham wood comes) occurs naturally it can also thrive in parts of the US, Africa and Australia. You may come across Sheesham wood under a different name – in fact it has several other names:
Indian Dalbergia
Himalaya Raintree
Penny Leaf Tree
Shisham
Shishan
Sissoo
The North Indian Rosewood gets up to 15m height in dry areas and 30m in wetter climatic conditions. It has many properties, including being a source of medicine to treat stomach conditions and skin problems, while local people use twigs for flossing. It is a great, multipurpose resource and as such makes for a great tree to use as a source of wood. As such, Sheesham wood is the second most valuable wood in India – teak being the most valuable.
Sheesham wood for furniture
Sheesham wood has a very distinctive colouring, although there are variations. Usually you will find Sheesham wood that benefits from a sumptuous golden brown hue that really does look special, but sometimes you can find pieces that have a richer reddish brown colour, which is equally visually impressive. Sheesham benefits from dark veins running through it adding a unique touch and making it ideal for furniture lovers who appreciate a natural wood effect.  The diversity of shading in Sheesham wood makes for a highly desirable material as all pieces will have unique characteristics.
Sheesham wood has long been rated extremely highly by carpenters as among the very best hardwoods for carving. This means that Sheesham wood furniture pieces can be more elaborate, diverse and attractive without a huge number of expensive man hours. It is also exceptionally open to engraving. Many other hardwoods can split during these processes, but Sheesham wood is more or less immune to such issues. Just one of a number of reasons why it is becoming increasingly popular for home furniture.
In terms of working with Sheesham wood, carpenters have long eulogised over its fantastic workability. It benefits from interlocked grains, great toughness and density and works well with all kinds of glues and can be given a wide range of finishes. Sheesham wood is incredibly strong and makes for pieces of furniture to last generations. One extra characteristic of Sheesham wood, as long as it is kept away from wood-boring beetles, is that it has an immensely high resistance to natural decay. It does not split or warp easily and dry wood termites cannot make a meal out of a good chunk of Sheesham wood furniture. Because Sheesham wood is cheaper than many of its rival woods it can be made into beautiful, but relatively affordable furniture pieces. This gives it a great competitive advantage as a material.
Sheesham wood is, as you can see a fantastic choice of wood for the making of home furniture and once you have purchased a piece of Sheesham wood furniture and have lived with it you will find further cause to celebrate its beauty and functionality. Finding the perfect balance between affordability and quality is never easy in this world, but Sheesham wood furniture achieves this balance perfectly. It is also exceptionally easy to care for – you can clean your furniture with a dry cotton cloth and it will always look the part, lasting for many generations.